Human Trafficking Case Study In Canada
A second teenage victim has come forward in a Toronto human trafficking case in which three people were charged last month.
Two young men and a young woman were arrested at the end of February when a hotel noise complaint led to the discovery of a teen who said she was being forced into prostitution.
On Feb. 27, a security guard responded to a noise complaint at a hotel in the Bay Street and Dundas Street West area, where he found a 14-year-old girl. The girl told police she was "invited" to the hotel by three people, who then allegedly forced her to provide sexual services over the course of a week.
She earned a large sum of money after meeting with clients who responded to online ads, but was forced to turn over all the money to the suspects, police said. She was also confined to the room.
Following media coverage, Toronto police said a second victim came forward with a similar story.
A 16-year-old told police she had been picked up somewhere outside of the city, and driven to a Toronto hotel. She was confined in a hotel room for two days, forced to perform sexual services, before she managed to escape, police said at a news conference Tuesday.
As a result, the same suspects in the 14-year-old's case are facing further charges, Insp. Joanna Beaven-Desjardins said.
Sage Finestone, 21, Nicholas Faria, 19, and Natasha Robataille, 18, face a combined 43 charges relating to human trafficking. All three have been released on bail, Beaven-Desjardins said.
Police believe there may be more victims.
"It is further alleged that these three accused prey on vulnerable individuals, lure them away from friends and family and control their every move. They are led to believe they're entering a world of glamour and riches, which in reality they enter into a world of severe abuse," Beaven-Desjardins said.
Dawn Harvard, vice-president of the Native Women's Association of Canada, called human trafficking a "crisis" facing girls and women, especially those in the Aboriginal community.
"Our girls are not just missing, like somebody's wallet or somebody's keys. Our girls are being stolen from our communities, from our families and from our nations."
Harvard and Covenant House team leader Michelle Anderson spoke at the conference, reminding anyone who may be in a similar situation that there are resources set up to provide support, health care and housing.
"If you reach out to us, we will be there for you."
Anyone with information is asked to contact police at 416-808-7400, or Crime Stoppers at 416-222-8477 (TIPS).
Read the case study that follows. Then, click on the image to take the quiz about Edward.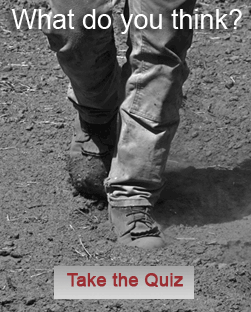 Leaving his wife and three children in Manila, 32-year-old Edward thought he was coming to Canada to work on a crew building two ocean-going icebreakers for the Canadian government, for $23 an hour plus overtime, food and lodging.
An Ontario labour-supply company that legitimately thought it would be supplying workers for the federal contract asked a couple of Manila-based job-recruiting companies to help find them skilled workers, which is where Edward found out about the job. To qualify, he had a medical exam, took English lessons and upgraded his professional skills, all at his own expense. He also paid the recruiters a $12,000 "placement" fee that included a legal temporary work permit to enter Canada.
What Edward didn't know was that the contract for the icebreakers had fallen through, but once he arrived in Canada, the recruiters sent him to an agent in Ontario anyway, who then sent him on to a man named Robert.
Robert took Edward's passport and then dropped him at a house in Toronto where he found himself one of eight Filipino men — all skilled plumbers or welders — sleeping four to a bed in the basement. The next day, Edward and the other men were trucked two hours north to a new home in a filthy, abandoned farmhouse.
From the farmhouse, the men were driven to work at 5:15 each morning: some to help clean a water-bottling plant, others to dig ditches or pick up garbage around Robert's estate. When Edward asked his boss when he would get his first paycheque, Robert responded, "Don't you guys know that I spent $4,000 to get you?" He also told Edward that his work permit had expired and that "one call, I can have you deported," and then threatened Edward with a beating if he didn't go back to work.
Some of the men eventually did receive some pay, but not Edward. Edward's case finally came to the attention of Philippine embassy officials when another man, a welder, ran away from a work detail near Hamilton and eventually got in touch with his embassy. A few days later, consular staff rescued the remaining men from the farmhouse, including Edward. Now, Edward has a home and a paying job in Saskatoon, and is in the process of sponsoring his family to Canada. (Based on a true Canadian story.)
| | |
| --- | --- |
| previous | next |
Copyright © 2014 Province of British Columbia.